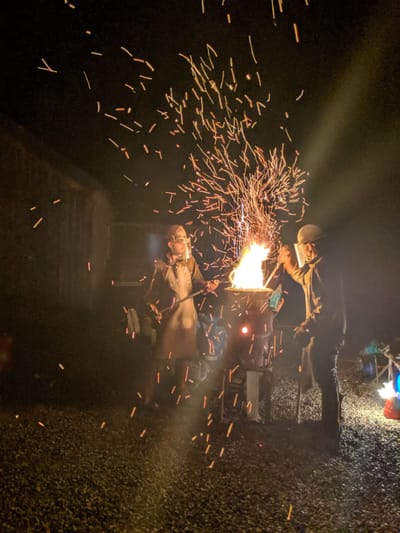 Are you looking for an unusual way to celebrate with friends and family? An opportunity to relax, take time out for yourself? Or a bespoke piece of art for your home or garden? Eden has 30 years of experience working in the field of sculpture. He has three strands to his professional offer. To find out more about possible packages keep on reading - these are suggestions only - we can tailor these to your requirements. And if you can't decide you can purchase a voucher and think about it! These are available at our 'vouchers ' tab - or you can just email us. We are fully mobile and can travel anywhere in Scotland, UK or further!
Prices are based on numbers as noted for each workshop / event, but can be adapted on request for smaller / larger groups if health and safety allows. There may be additional costs for travel or venue hire if required
1 - ACADEMY OF FIRE
Metal casting and stone carving workshops will be offered in a range of venues throughout the course of the year - to check out opportunities please view our events page - we are also on Facebook
https://www.facebook.com/FireForgeFurnace
Eden is also available to provide freelance and consultancy work to organisations or individuals who wish to commission his skills in metal casting, stone work and forging - price on application
Examples of this offer include:-
Bronze Age Casting This is an opportunity to take several large steps back in time and explore an ancient bronze casting technique. The materials we will use are simple - wax, clay, sand, charcoal, and dried horse manure. From the wax we will make small objects based around local Pictish carvings and press loam around it making a mould. We will build a small furnace from sand clay and horse manure. With the charcoal we will gently cure the furnace and melt out the moulds. Finally, using bellows you will heat the bronze in a small crucible and pour it into the mould. After a short while we can open the moulds and see the results of our labour. This is a low tech, quiet and bonding process, it can take an hour of pumping the bellows to get the metal to pouring temperature, around 1270C Cost - £200 per head - this course takes place over 2 days
Bronze casting - Using modern techniques, this is an excellent way to learn about the casting process and produce a small piece of sculpture or a tool. Cost £100 per head for a 1 day course
Cuttlefish Casting - Bronze or white metal. Have fun meeting each other as you each carve or press a simple design into a cuttlefish bone. Then one by one Eden will guide you in pouring molten white metal or bronze into your mould and VOILA you have created a small cast. It is also an incredibly relaxing and soothing process! - Numbers 8-15. Cost £45 per head - white metal / £50 per head bronze
2 - HOTTER THAN HADES
Eden can offer bespoke bronze and aluminium pours at your own location - this is a unique and interactive way to celebrate big events with friends and family - imagine this for your wedding, engagement, a big birthday - whatever is important to you. We can also offer a local (Aberdeenshire) venue if preferred. At the end of these events all participants will have cast a memento in either bronze or aluminium. He can also make mementos for you, using your own information.
The Bronze Age Casting referenced above is also an option for private events
FORGING FRIENDSHIPS - Get your stags to channel their inner blacksmiths with a hammer and some hot coals to forge a bottle opener in iron that they will take away. The session will finish with a bottle of beer with each stag using their own hand crafted opener , a great photo opportunity! - Cost £80 per head (numbers limited to 4)
CHUMS CHARMS and CHATTER - Get your hens round a table and have fun catching up as you each carve or press a simple design into a cuttlefish bone. Then one by one Eden will guide you in pouring molten metal into your mould and VOILA you have created a small charm you can use as jewellery or a Xmas decoration. This session finishes with a glass of fizz. It is also an incredibly relaxing and soothing process! - Cost £50 per head (numbers 8-15)
CARVE OUT SOME TIME - A stone carving taster session -We will look at different tools, their uses and effect on stone and the health and safety aspects relating to common and local stone types. After this we will start carving letters into slate, both incised and raised. Letter carving is a good process in learning how to handle a chisel and is actually good fun! - cost £80 per head (numbers limited to 4)
INCREDIBLE IRON- For the ultimate, most spectacular finale to an event - an Iron Pour! There are some images of this in the portfolio - sparks, flames, drama - better than any firework display. A few lucky people can assist and the rest of you can watch the performance unfold - Cost on application - can be linked to other events
LOVE SCULPTURE? - A bespoke event just for the 2 of you! Getting engaged or married? An anniversary or just quality time together. Have Eden all to yourselves for either a stone carving workshop, a cuttlefish casting course (white metal and bronze included), or a forge workshop. You might want to tie into an important anniversary - Iron - 6th; Bronze - 8th; Aluminium - 10th. Cost £300 per couple
3 - MR MELTYCHARMING CHILDREN (or for adults who want to channel their inner child!)
- Host a unique party for your little angels who will each carve a small charm out of cuttlefish bone and have Eden help them cast this in metal. Party games optional! -
Cost £40 per headAdditional information
Eden is registered in the PVG scheme with Disclosure Scotland, and is an emergency first aider. All events are fully risk assessed. We are an inclusive organisation - If you or anyone attending an event has any specific requirements, please let us know
Don't forget to let us know any specific requests, dates and numbers in contact form-we can adapt prices to numbers and mix and match the offer! Give us a call or email if you need more information
.